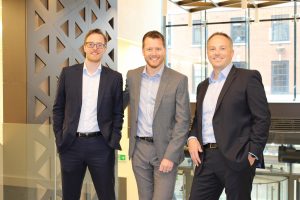 Tyr Law is Leeds' newest law firm.
Founded on 1 May by partners Alistair Kennedy, Dean Jowett and Matthew Fidler with an initial team of 8 and a city centre office, the firm is positioning itself as a high-quality and trusted alternative to the established Leeds firms.
Alistair and Matthew are well known as innovative and exceptional commercial litigators, working on high value and complex cases in the regional and London Courts.
Dean is an experienced commercial property lawyer with an impressive list of PLCs and other major players as his clients, particularly in the development sector.
Alistair Kennedy said:
"The legal market is changing, and clients increasingly focus on finding experienced trusted advisors who work with them in partnership and give them a commercial edge over their competitors. The partners who have founded Tyr Law put the emphasis on excellence and client service. This is an opportunity for us to build something exciting and high calibre across the board; a law firm that we and our clients can be proud of ".
The firm has a fresh and modern approach, blending up to date resources and technology with a strong and enthusiastic team. Tyr Law can offer litigation, commercial property and corporate services to its clients.
You can connect with Tyr Law on Twitter (https://twitter.com/tyrlawyers) and Linked In (https://linkedin.com/company/tyrlaw/).