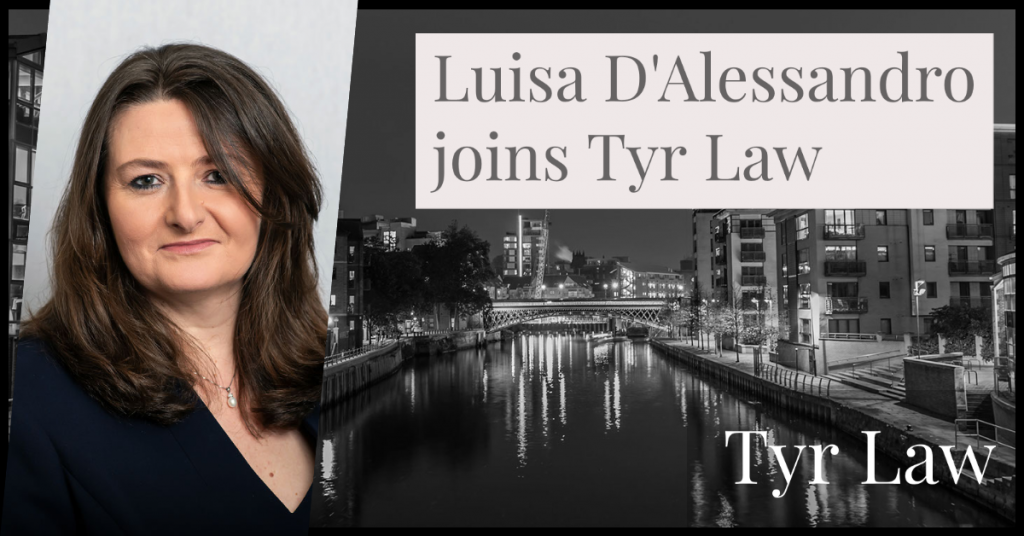 We have continued our growth with the recruitment of partner, Luisa D'Alessandro.
Luisa was previously a partner at Schofield Sweeney, and trained and worked in the commercial team at Pinsent Masons earlier in her career. Luisa joins to lead the commercial team at Tyr Law and brings a wealth of experience in advising on commercial contracts. Her practice also covers data protection and IT work, for which she is ranked in the Chambers and Partners guide.
Tyr Law has quickly established itself as a leading commercial law firm. Luisa is the sixth partner to join in the past year, with a total of 12 new joiners in the same period, as Tyr Law has grown consistently despite the challenging climate. The firm is now able to offer a top-quality full service to its clients.
Managing Partner, Dean Jowett, said "Luisa completes a fantastic period of growth for the firm. We are now established as a full-service firm offering the highest quality legal service to our clients. Luisa is an excellent lawyer with a great reputation. We are attracting top quality work and clients locally, nationally and internationally. Luisa is an impressive recruit who will fit perfectly with the existing team, and she brings a key service for the firm's clients."
Luisa D'Alessandro added "I am delighted to join Tyr Law and look forward to growing the commercial practice and contributing to the firm's continued success. I am passionate about providing the highest quality service and Tyr Law's ethos of a first-class service delivered by a team of high calibre lawyers make the firm a great fit for my clients."